Natural cowhides vary in color from solid white, with a large variety in between, to solid black. All natural cowhides have but three basic colors – white, brown, and black. These three colors can vary dramatically, especially in the brown tones, which can range from blond (palomino) to red (Hereford). Also, color patterns vary from solid to spotted and speckled. Brindle is also a pattern associated with certain breeds of cattle, which adds another design to the natural cowhide.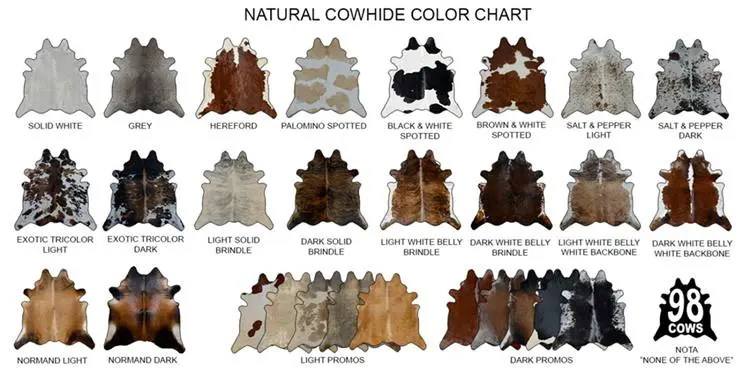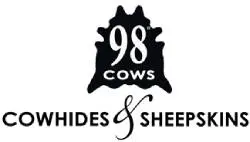 Stenciled cowhides are produced by literally dying a pattern on a natural cowhide (usually a solid light-colored cowhide). The dye used in the process, usually black, is permanent and will not wash off. There are a variety of color choices in stenciled cowhides ranging from African prints (zebra, giraffe, leopard, cheetah) to South American prints (jaguar and anaconda). Stenciled cowhides add drama to any interior design project.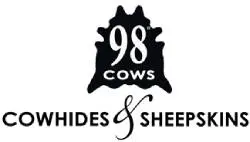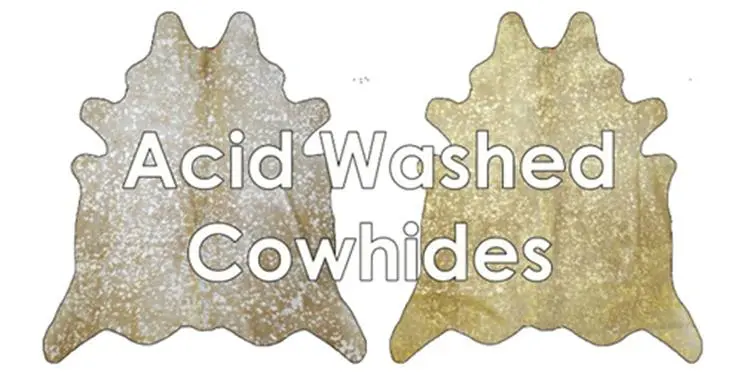 Acid washed (devore) cowhides come in a variety of colors. These cowhides are produced by splashing acid on the cowhide, which removes the hair from where the droplets land. Then a sheet of foil is applied with heat. The cowhide is placed in a tumbler, which takes the foil off the hair, but leaves it on the blank areas where the hair was removed. Done properly this process produces an elegant product that will last for many years. Most popular colors are silver foil on white cowhide and gold foil on beige or white cowhide.

Popular colors in dyed cowhides are black, chocolate, red, blue, grey, green, orange, purple, lilac, pink and yellow. NOTICE: The dye on these products can stain carpet or light-colored floors – especially when new.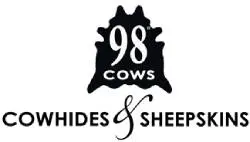 COMBINATION ACID WASHED, STENCILED, EMBOSSED, AND DYED COWHIDES
The tanneries have learned to produce a variety of exotic cowhides. These include dyed acid washed cowhides, stenciled acid washed cowhides and pattern stenciled cowhides. Cowhides can also be embossed in a variety of patterns like alligator.